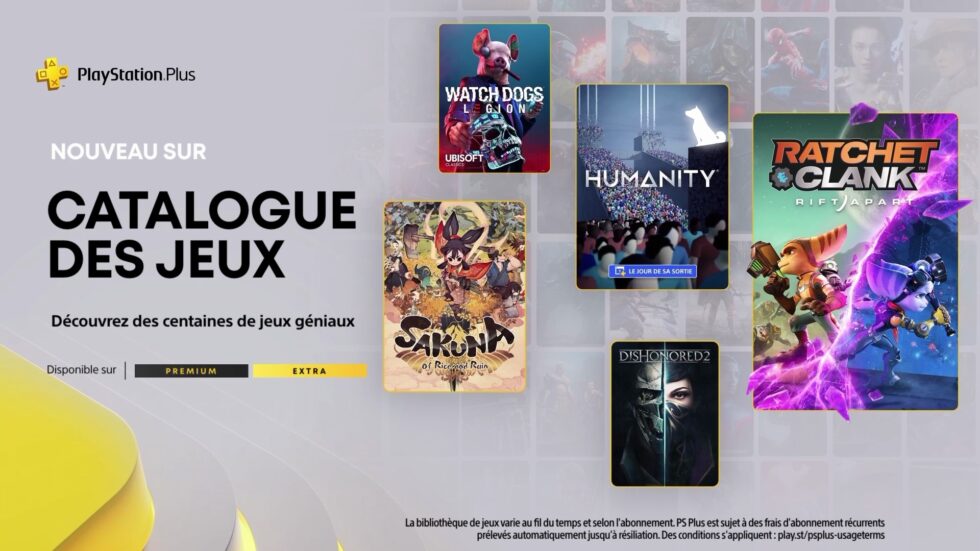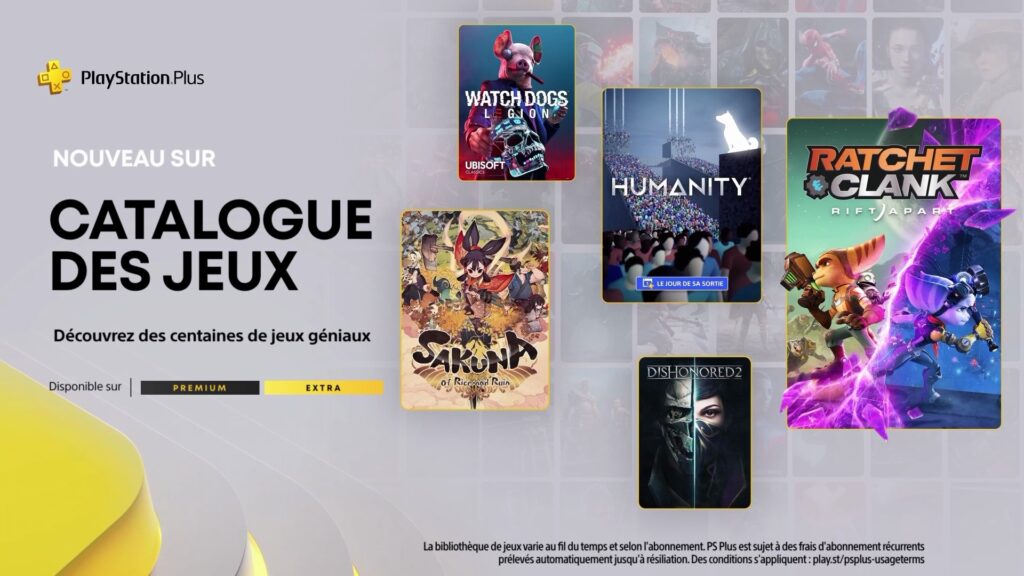 Comme chaque mois, ce 16 mai, le catalogue du PS Plus Extra et Premium s'étoffe pour proposer toujours plus de jeux aux abonnés ! Ce mois-ci, ce ne sont pas moins de 22 jeux qui sont ajoutés au catalogue, dont un jeu Day One ! Jetons y un œil.
Catalogue PS Plus Extra
Pour le PS Plus Extra nous avons l'ajout de 18 jeux ce mois-ci :
Ratchet & Clank : Rift Apart (PS5)
Thymesia (PS5)
Humanity (PS4/PS5) (Day One)
Watch Dogs : Legion (PS4/PS5)
Soundfall (PS4/PS5)
Lake (PS4/PS5)
Bus Simulator 21 : Next Stop (PS4/PS5)
Tomb Raider : Definitive Edition (PS4)
Rise of The Tomb Raider : 20 Year Celebration (PS4)
Shadow of The Tomb Raider (PS4)
Dishonored 2 (PS4)
Dishonored : Death of The Outsider (PS4)
The Evil Within 2 (PS4)
Wolfenstein : Youngblood (PS4)
Sakuna : Of Rice and Ruin (PS4)
Rain World (PS4)
Conan Exiles (PS4)
Rune Factory 4 Special (PS4)
Catalogue PS Plus Premium :
Du côté du PS Plus Premium cette fois, 4 jeux sont ajoutés en mai :
Ghostbuster : The Video Game Remastered (PS4)
Syphon Filter : Logan's Shadow (PSP)
Blade Dancer : Lineage of Light (PSP)
Pursuit Force (PSP)
N'oubliez pas non plus les jeux du PS Plus Essential de mai, dont vous pouvez retrouver la liste ici, et qui sont également disponibles !
Ce mois-ci, le PS Plus Extra se voit donc encore extrêmement généreux, notamment de part l'ajout de Ratchet and Clank Rift Apart, de la trilogie Tomb Raider et de toujours plus de jeux du catalogue Bethesda ! Le Premium quant à lui peine toujours à proposer des jeux vraiment intéressants, on espère que son catalogue s'améliorera à l'avenir. Amusez-vous bien !